Dear AITans,
Greetings from AIT Campus Sustainability Club!
"Raise your voice, not the sea level" is this year's slogan for World Environment Day, given by UNEP. By this time all of us must be aware that World Environment Day is celebrated on June 5, every year.
We, from AIT Campus Sustainability Club, would also like to extend our program on the occasion of WED based on the concept of 3R (Reduce, Recycle and Reuse). The basic idea is to aware AIT community on "waste separation" and dumping of the wastes into different bins accordingly.
The club has therefore decided to place two different colored bins ("Yellow" for plastic, and "green" for paper" at Lawson 108, in front of dorm P and near grocery store. We request everybody to dump your garbage accordingly. We would also be highly indebted if you could pass this message to other AIT community members.
In addition, we would also like to inform that, a truck collects dry recyclables (paper, plastic, metal, card boards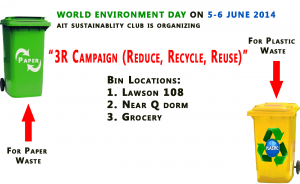 etc) in exchange of cash, on first Saturday of every month. The general route for the truck is ST4, ST6, ST8, ST9-10, Dorm R and ST3. This could be a perfect example of earning "green money" along with environmental benefits.
We hope to get everybody's positive response.
Regards,
Md. Anishur Rahman
President
AIT Campus Sustainability Club
"When the winds of change blow, some people build walls and others build windmills" – Chinese Proverb.
Let's show the world that we can build windmills together!