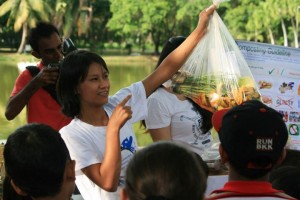 Khamom Palo Htaw [shown in the photo taken at art competition for kids organized by AITCSC] is a masters student of Environmental Engineering and Management under SERD [School of Environment, Resources and Development] at AIT and also an active member of AITCSC. She has been working on a waste segregation project for AIT as part of her masters thesis. Her prime objective is to help develop a sustainable solid waste management for AIT as a whole. Her project has kicked off on 6th July 2014 and is still ongoing.
To promote recyclable waste packaging at community level, separate cage bins for solid waste and wet waste have been placed in various spots around AIT campus namely Lawson 108 convenience store, EEM building, AIT Extension and Easy House. Some cage bins have also been put in front of ST7, ST6 and SV3 to target household waste.
Khamom says, "It is hard to change people's habits, keeping that in mind, this project is an attempt to improve the waste segregation system for AIT which will lead to a better environment within the campus. Although stickers, banners and email correspondence has been made to all AIT community about the project, people still sometimes fail to follow instructions."
Khamom opines that if solid waste is separately dealt with, then it will be easier and less time consuming to collect recyclable items such  as plastic bottles, glass bottles and metal cans. The AIT cleaning workers can then sell these outside and earn some extra cash for themselves as well creating a win-win situation for all parties involved. Also the dry waste that will be collected separately could be sent to the lab for testing and then used as organic compost fertilizer for plantation within AIT campus.
AITCSC wishes Khamom Palo Htaw all the best for her project work!